Lori Finn, DPM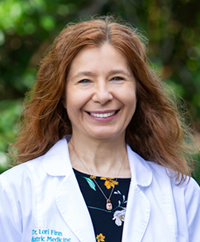 I was born in Long Island, New York, and moved to Phoenix with my family at the age of 9. After high school, I became a certified cook, and worked as a cake decorator during my undergraduate years, and still enjoy decorating cakes for special occasions!
In 1995, I received a bachelor's degree in Molecular & Cellular Biology from the University of Arizona. While deciding on a career, I knew I always wanted to be a doctor. The field of podiatry interested me because while at the University of Arizona, I shadowed a podiatrist for a while. I noticed her patients were happy to see her, and they felt better when they left her office. Also, I like working with my hands and making things look nice. I felt I could make a real difference in peoples' lives if I did this.
I decided to go to Barry University in Miami for podiatry school because of its excellent program, and I could also be close to my grandmother to visit on holidays. I first received a master's degree in Biological Sciences in 1996. I graduated Valedictorian from podiatry school in 1999. Residency consisted of one year at the Podiatric Primary Care Residency Program in New Boston, TX, followed by the Podiatric Orthopedic Residency in Brooklyn, NY at SUNY Downstate Medical Center, and finally a one year Podiatric Surgical Residency at Wyckoff Hospital, also in Brooklyn, NY.
While practicing in Sebring, FL I met my husband, Mike, who was working as a Park Ranger at Highlands Hammock State Park. We both enjoy hiking and learning about nature. We moved to New York to work with my former residency director, but we both missed the Florida sunshine, warmth, and water and returned back to Florida. While working with another podiatric practice in Fort Myers for the past 7 years, I gained valuable experience and became Board Certified in Foot Surgery in 2010.
At this point in my life, I believe I can provide better care for patients in my own office. There are so many new developments and technologies available in the field of podiatry that can cure patients and improve their quality of life, and I want to make them available to my patients.
My husband, Mike, is invaluable in this process. He works full time as the office manager. He also helped me set the practice up. He is a true friend and partner.